latest news
Sep 22 2019
TZEDEK MAKES MONUMENTAL MOVE TO JOIN MONASH HEALTH
Tzedek is extremely pleased to announce that it will become a program provided by Monash Health, through its South ...
Jun 09 2016
NEWS that former Adass Israel head teacher Malka Leifer will not be returning from Israel to face justice any time soon and will be freed from home detention has caused ...
Read all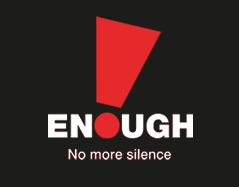 News
The Australian Jewish News
Daniel Shandler
17 March 2017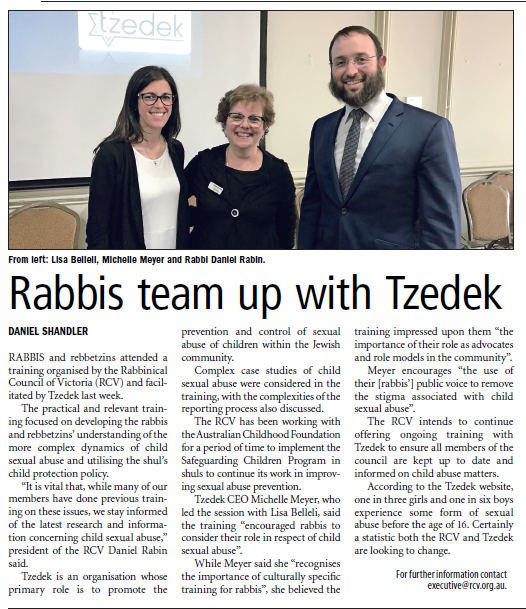 ---
New Tzedek president
The Australian Jewish News
AJN STAFF
3 June 2016
TZEDEK Australia has appointed Danny Schwarz (pictured) as its interim president after Josh Bornstein's recent resignation.
A spokesperson for the support and advocacy organisation for Jewish victims/survivors of child sexual abuse said Bornstein played a pivotal role as Tzedek president over the last four years, and the board and staff would like to thank him for serving with dedication and commitment during a turbulent period.
"Josh led the board and supported Manny Waks in the establishment of Tzedek. The early stages of Tzedek were challenging times as the community came to terms with shock waves related to the history of institutional child sexual abuse at the Yeshivah school [in Melbourne] and other institutions," the spokesperson said.
"He capably led Tzedek after the establishment of the Royal Commission into Institutional Responses to Child Sexual Abuse. More recently, he had assisted with Tzedek's change in leadership to the appointment a year ago of the current CEO Dr Michelle Meyer.
"Tzedek has a stable board moving forward. Danny Schwarz brings a wealth of experience - he has been vice-president and treasurer of the board. He also has 20 years' experience in management roles in not-for-profit organisations and was recently appointed as CEO of the Playgroup Association."
Tzedek Australia's vision is to strive for a Jewish community free of child sexual abuse and associated harmful behaviour. Tzedek means justice in Hebrew.
The organisation provides awareness, education and prevention programs through community, professional and school channels.
It also runssupport groups where victims/survivors are givena range of useful options and courses of action and can be referred to counselling or legal services. Confidentiality and anonymity is emphasised and assured throughout this process.
Tzedek also works with government, Jewish community institutions, law enforcement and other relevant agencies to address the issue of child sexual abuse within the community.
---
The Australian Jewish News
Peter Kohn
9 June 2016
Child sex-abuse victims group Tzedek has launched an online petition calling on Israel's Minister for Justice Ayelet Shaked to "stop this injustice" and extradite Leifer, stating, "It's heartbreaking this school teacher left vulnerable children traumatised. She can't get away with it."
Meanwhile, Canberra-based Tzedek supporter Fiona Sweet-Formiatti has also launched an online petition, expressing "profound shock" at the ruling and urging Israel's Attorney-General Avichai Mandelblit to place Leifer in a state hospital until she is fit to face ­proceedings.
The petition added, "We are concerned that Israel's reputation is also suffering from being perceived as a haven for alleged paedophiles wishing to avoid justice."
Tzedek CEO Dr Michelle Meyer told The AJN: "We were astounded at the findings and appalled that the home detention would be uplifted and she would be free to walk the streets and not be institutionalised."
Meyer said Tzedek was also gravely concerned at the impact created by the standing down of extradition proceedings "and the impact that has on survivors here", who she said are suffering "secondary trauma" due to the Israeli court's actions. "Survivors here are living in hope that justice will be done."
To read the full article, please click here
---
The Daily Telegraph
Shannon Deery
7 June 2016
Victim advocate group Tzedek said two petitions launched since Judge Amnon's ruling had already raised thousands of signatures.
In a statement, the group said more than 2000 people had signed two petitions including one to Israel's justice minister expressing their outrage at the ruling.
"Tzedek is appalled that a person with 74 charges pending of sex offences is living in her community, posing a risk to children," the group said in a statement. "This ruling shows total disregard for the victims from the Adass school. They need to see Leifer brought back to Australia to face criminal proceedings.
"The current stalemate is causing ongoing trauma to the victims."
To read the full article, please click here
---
Carbonated.Tv
3 June 2016
Michelle Meyer, the chief executive of Jewish victims support group Tzedek, claims Leifer is doing everything to avoid extradition and has "manipulated the system."
"She has been well enough all this time to continue living, raising her family and possibly working. That doesn't suggest to me that she is unable to be extradited," said Meyer.
To see the video and read the full article, please click here
---
Times of Israel
Dr. Michelle Meyer
3 April 2016
Cild sexual abuse causes significant trauma and impairs a victim's psychological, sexual, social and physiological development.
With the rise in disclosures of child sexual abuse within faith based organisations, and disclosures of intrafamilial sexual abuse in faith based communities, there needs to be more focus on the impacts on spiritual development and religious identity.
To read the article, please click here.
---
J-Wire
25 March 2016
This article is written by a female survivor of child sexual abuse in an institutional setting in the Australian Jewish community.
This is the correct fileDr. Michelle Meyer is CEO of Tzedek, an advocacy service for survivors of child sexual abuse, is promoting her voice, both as an opportunity for her to tell her story but also in the hope that it will encourage others to speak up. And whilst this story took place in the Australian Jewish community, it is also an international story.
A victim tells her story:
---
J-Air
Gary Max
9th December, 2015
https://soundcloud.com/jairradio/sets/talking-to-the-max
---
The Australian Jewish News
Dr. Michelle Meyer
Friday 4th December, 2015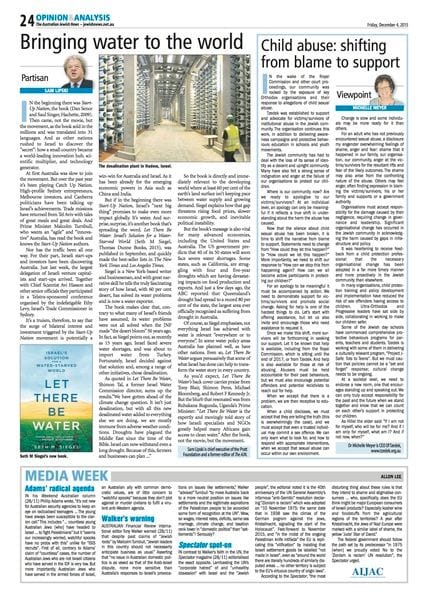 ---
AJN article "Parent's plea at Tzedek forum"
AJN staff
Friday 18th September, 2015
---